"Vegas de Santiago" Tobacco Farm and Premium Cigar Manufacture
Our families have been growing quality tobacco in the volcanic mountains of the Puriscal region of Costa Rica for more than eighty years.
Puriscal is ideal for growing tobacco and curing it naturally because of its volcanic soil, special climate of this mountainous area, the right proportion of rainfall and humidity, combined equally with a period of dryness. Another benefit for our cigars is that we do not use any pesticides due to the altitude.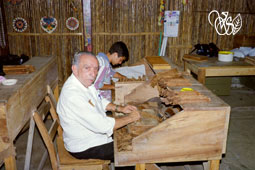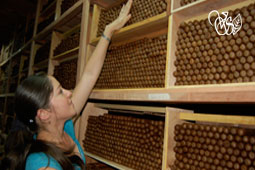 Several years ago, one of the great Cuban masters in manufacturing premium cigars, Don Luis Santana Lamas, joined our company. He brought with him his life-long experience in seeding, growing, drying and curing tobacco. He also helped us to improve our manufacture of world-class cigars.
The Longfiller, the Binder and the Outer leaf are made from specially selected tobacco plants. They come from our own Costa Rican crops or they are imported from neighboring countries like Nicaragua, Ecuador or from the Caribbean. They are the best quality tobacco leaves available on the market.
All in all, it takes nearly four years to create a Vegas de Santiago cigar.
Our cigars are all hand rolled with care, even the tiny "Chiquititos". However, we do not try to imitate Cuban cigars. We are simply setting high standards of quality, taste and aroma for cigar aficionados around the world, and our products are our best testimony.
Our cigars have a very smooth draw, a perfect burning and can be smoked to the finger tips!
That is why so many cigar aficionados love cigars from Vegas de Santiago!
Marc Niehaus, Partner & International sales manager