The Quality of our Premium Cigars Originates in the Fields...
... and is valorized by the skill of our artisans
The selection of the best tobacco, the search for the most delicate flavours, the accumulated experience of our workers in the art of rolling cigars to perfection and the deep wish to satisfy all « aficionados », even the most experienced, have brought us to develop 6 lines of cigar.
Each one is a combination of the finest tobacco from plantations in Central America (essentially Costa Rica and Nicaragua), the Caribbean, Ecuador, the United States of America and Indonesia.
All cigars are longfillers and 100% hand-made by our artisans in Costa Rica.
Our six lines are :
El Magnifico « Heritage »
The ultimate Costa Rican cigar. For those who like them strong and tasty.
Filler from Costa Rica.
Binder from Costa Rica.
Wrapper made out of an exquisite maduro leaf from Ecuador.
El Unico « D 8 »
Greatness and Prestige
Ready to enter "The club of the greats"
Filler from the best Carabbean tobacco.
Binder from Ecuador.
Wrapper made out of a special Habano 2000 leaf grown in Ecuador.
El Puro de los « Puros »
"Puros Edicion especial" is a cigar entirely made from tobacco grown in our own fields, in the fertile and volcanic mountains of Santiago de Puriscal, Costa Rica.
Filler: Ligero tobacco from Costa Rica.
Binder: Tobacco from Costa Rica.
Wrapper: Tobacco from Costa Rica.
This tobacco is 100% Costa Rican Gold!


We offer the following vitolas online:
Salomones, Canionazo, Doble Corona, Churchill, Torpedo, Robusto, Corona, Laguitos #1, Panetela, Chiquititos.

You may also want to order
Laguito #3, Lonsdale, Toro, Panetela Extra, special orders.
For other vitolas or any other information please contact us.
For information about private bands please go to our webpage private bands.

If you ever have the chance of visiting Costa Rica, please come and visit our factory and plantation in Puriscal (see Tobacco Tour).
Pura Vida!

Containers and Boxes
All boxes are hand made.
Cedar box of 10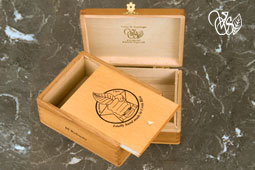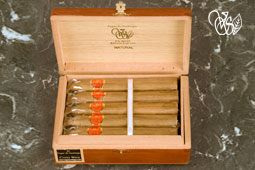 Cedar box of 20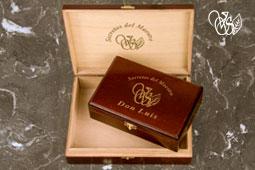 Bundle of 20 or 25