Export - Packaging - Shipping - Customs
Packaging
Our expedition team is doing its best to guarantee top professional care.
All boxes are hermetically sealed. However, it may be advisable to let your cigars rest for ten days in your humidor.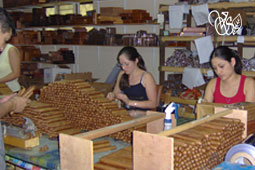 Shipping
FREE SHIPPING AND INSURANCE, WORLDWIDE BY AIRMAIL
Delivery time about 2 weeks.
OPTIONAL EMS INTERNATIONAL EXPRESS MAIL SERVICE
US$ 20.- for orders less than US$ 300.-
Delivery time 5 to 7 working days.
FREE EMS INTERNATIONAL EXPRESS MAIL SERVICE
For orders over US$ 300.-
Delivery time 5 to 7 working days.

All orders are sent within 48 hours after reception of the order.
The orders are usually sent directly from Vegas de Santiago Costa Rica , the manufacture of Premium Cigars.
EMS shipping: track your order with your personal tracking code number.
Should you receive a shipment that has been damaged during shipping, or that does not match your expectations, please contact us immediately.
Any shipments that do not arrive within a maximum of 30 days will be replaced or reimbursed. Please contact us in this case.
No claims are possible 45 days after shipment.
Shipping by DHL, UPS or Fedex upon request.
Customs
According to each national law, customers should be aware that there may be customs duty to be paid on arrival of their order.
In many countries, 20 to 50 cigars per shipment are tolerated or accepted duty free however, it is by no mean an international standard.
Naturally, our company has no influence whatsoever on customs regualtions and cannot be held responsible for any extra costs.
Please contact us for any additional information you may need.